Jackson County Public Schools... Our Future.
Helping all students achieve their highest potential!

Bus Driver Training May 21, 22, and 23rd
Look under district news for more information
Congratulations to our
Jackson County...

Teacher of the Year: Graceville High School
JaJuan Clark
Rookie of the Year: Sneads Elementary School
Patrick Jones
Vivian F. Ford School Related
Employee of the Year: Marianna High School:
Terri Taylor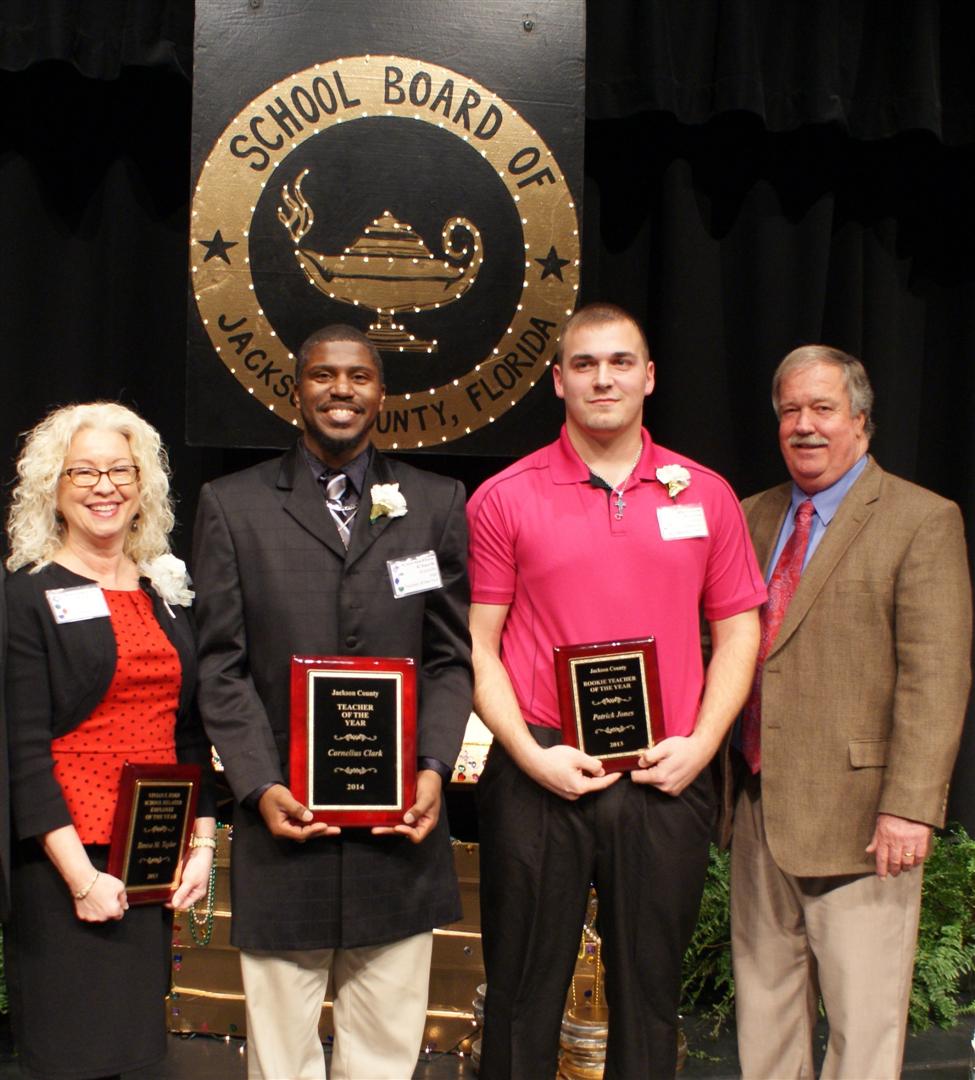 CONGRATULATIONS!School grades for the 2011-2012 school year.
"A" Schools

Golson Elementary, Graceville Elementary, Grand Ridge, Marianna Middle, Riverside Elementary, Sneads Elementary
"B" Schools

Cottondale Elementary, Graceville High, Cottondale High, Marianna High, Malone School, Sneads High
Letter to Parents from FLDOE Commissioner Robinson about School Grades
Attention PARENTS:
This year, there is a web based tutorial available for parents and
students to help with the online End of Course exams and
online FCAT tests. The following is a link to this site:

http://flassessments.com/html-redirects/StudentTutorials/launch.html
The NotifyMe© feature allows you the opportunity to subscribe to our website for the purpose of receiving important electronic news and announcements (such as school closures, severe weather alerts or other "emergency" notifications). If you wish to subscribe, please click this icon.
District Office Visitor Entry
For security reasons, the "back door" to the District Office now has a keypad entry system and access through this door is restricted to District Office employees only.
ALL visitors to the District Office should enter through the front door of the building.
Thank you for understanding.
Jackson County School Board is an Equal Opportunity Employer. Jackson County School Board does not discriminate based on race, creed, gender, color, national origin, religion, age, sexual orientation or disability. Any person who feels that he/she has been discriminated against is advised to contact Shirl Williams, Equity Coordinator, 2903 Jefferson Street, Marianna, FL 32446 (850) 482-1200 ext. 216. Jackson County School Board has a policy of active recruitment of qualified minority teachers and non-certified employees. Any person who believes he/she may need reasonable accommodations during the application, testing or interview process should notify the Human Resources Office at 850-482-1200, ext. 283.
---
Click this graphic for information on Florida's budget:

Under Florida law, e-mail addresses are public records.
If you do not want your e-mail address released in response to a public records request, do not send electronic mail to this entity.
Instead, contact this office by phone or in writing.